The 2021 Subaru Love Promise Customer and Community Commitment Award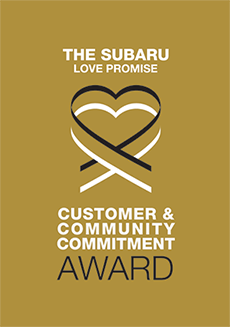 We've been nationally recognized for our dedication to our customers, our community, and the Subaru Love Promise.
We're honored to receive the 2021 Subaru Love Promise Customer and Community Commitment Award. This award nationally recognizes elite Subaru retailers who provide an exceptional customer experience at every interaction with Subaru. These retailers have also demonstrated an outstanding commitment to supporting passions and causes in their local communities in important areas such as the environment, community, health, education, and pets.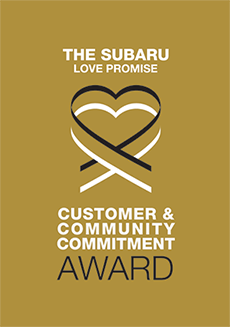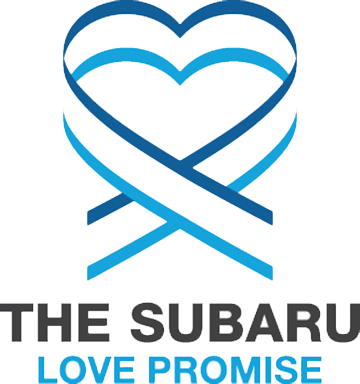 What is the Subaru Love Promise?
Subaru and our retailers believe in making the world a better place and the Subaru Love Promise is our vision of respecting all people. This is our commitment to show love and respect to our customers and to work to make a positive impact in the world.
How is Flow Subaru dedicated locally to the Love Promise?
Our Love Promise can be seen in various partnerships with local charities and non-profits. We're grateful for the opportunity, not only to be a part of our community, but to serve it as well. At Flow Subaru of Winston-Salem we take our partnership with our community very seriously, and we thank Subaru for sharing our same goals!
Humane Society of Davie County
Love Promise Stories from Flow Subaru
Subaru and Flow Subaru believe in making a positive impact on the communities in which we live and work. We uphold that belief through our Love Promise Community Commitment. Every month, we select inspiring stories from customers and partners from around our area who strive to support our collective commitment and feature them here
Barktoberfest - mandy h
Max (a boxer/pit mix) was found wandering as a stray eating whatever he could find out of garbage cans. He had an ear so infected it had an open wound and he was bleeding. Luckily a kind Samaritan contacted HSDC to see if there was any room on a late Saturday afternoon when no one else was open. We couldn't say no. This baby had no other options. He was adopted this month by a wonderful young woman who lives in Raleigh. She's very active and takes Max now to the park often and he is spoiled rotten with lots of snuggles. She also arranges frequent play dates for him because he's so social with other pups. 2) Brownie (a rottie/shepherd mix) was surrendered by a family that decided they didn't want the responsibility of having an 8 month old puppy any longer. "She's sweet but she's a lot of work so we are planning to take her to the pound." Yes most living things are work. However, she has since been adopted by a family that welcomed the responsibility (and the rewards) of pet ownership. They met Brownie at an adoption event and were completely smitten. The parents weren't convinced that they should have two dogs though (since they had already put down a deposit on another rottweiler puppy through a breeder). However, the children in the family put together a PowerPoint presentation to convince the parents that they could adopt and care for both responsibly. Brownie, now Millie will be spending lots of time at Lake Norman on the family boat, going for hikes, and hanging out with her new responsible human siblings. 3) Autumn (pit mix) was surrendered to a high kill shelter in the area. She had very evident marks on her face to indicate that she was a bait dog. Despite how her previous "humans" treated her, she was the sweetest and gentlest girl ever. And she still liked other dogs. Autumn was adopted to a loving military family that was excited to show her what life was like in a loving home. Autumn has had to learn from them how to actually walk on a leash and that she could sleep in a human bed too. Autumn has relished being spoiled rotten in her new loving home. 4) Honey (Siamese) and Sweetie Pie (all white) kittens were part of a litter that were dumped in an open carrier on the side of a busy highway. Luckily they were too young and little to crawl out of their open carrier (their mama stayed too -- thank goodness). Covered in fleas crawling all over their bodies, the Humane Society of Davie County immediately brought them in and searched for an experienced foster to care for them because the mama kitties milk supply was low. Mama was able to still nurse her kittens, but some of them (like Honey and Sweetie Pie) needed to receive supplemental feeding from a bottle. Now these babies are almost 12 weeks old and have been adopted together by a loving new family. They are spoiled rotten with every kind of toy, scratching post, and bed they could ever want. And they get to be together too! 5) Merlin and Merrigold came to the rescue from separate places. Merlin (black and white kitty) showed up at a family's home and literally stared in their window for days (rain or shine) hoping to be let in. They fed him outside, hoping that each day his owner would be found, although in pretty rough shape not too optimistic. Finally, they reached out to the Humane Society of Davie County seeing if there was anything they could do to prevent this kitten from becoming food to the coyotes since they lived on lots of land. Merlin was able to come into a loving foster home. He got healthy too (he had an upper respiratory infection and fleas...lots of fleas). This same foster had decided to say yes to another kitten that was found abandoned. Originally this orange kitten (named Merrigold) the family who found/rescued her thought she could just live in their barn but Merrigold had other plans. She meowed and meowed wanting to be let in. The family contacted HSDC to see if they could help locate a foster. When Merrigold went to a foster, she became friends with Merlin (it was not love at first sight though...they realized they had a lot in common - they both knew that they wanted to be safely inside with loving families and succumbed to being best of friends). Merrigold had a hernia (a quite large one) that will be fixed when she is spayed on October 26th. Now these two unlikely foster siblings will now be forever siblings. They were adopted by a family who came to pick out just one of the kittens, but ultimately decided they could not be separated. They too have lots of cat trees, tunnels, toys, scratching pads, and kids to love and play with them and 3 boy human siblings to call their own. I'll tell ya this was a bit wonderful to write and remind of all the good that comes out of rescue even though you know you can't save them all. Thank you, Ruben for playing such a critical piece in this puzzle. We appreciate the generosity you have shown our organization and the animals that have come through our doors! Much Gratitude, Mandy
---
Roc Solid - kelly k
Flow Motors and several Subaru employees teamed up with Roc Solid Foundation to build hope for local children fighting cancer. Flow Subaru, our corporate management team and several of our sister stores came together to build a playset for a local family who is fighting pediatric cancer. We met at the family's home and within a few hours had a wonderful playset complete with a rock climbing wall, swing, slide and fort built with the help of Roc Solid Foundation who organized the entire event. The young man and his family were so excited and appreciative. It was a wonderful morning well spent giving back to our community.
---
Subaru Spirit of Caring! - Joel M
Each year Senior Services helps to make holidays brighter for the older adults in their programs through their Remember in December campaign. The campaign is a community-wide item drive to collect comfort, care, and household helps for seniors who need it. Our Subaru Outback has been indispensable in this process - helping to deliver big red boxes to various drop-points in the community, bringing donated items back to our office, and helping us cart collected items to seniors we serve. It is great to be a part of such a wonderful community that never fails to remember older adults not only during the holidays, but throughout the entire year. Subaru exemplifies this caring spirt and we're thankful to them for all they've done to help us serve older adults.
---
Flow Thank you to front line Health care workers - Kelly M
A special thank you to our Health care providers During our Covid-19 . We are giving a Free oil and filter change to show our support from April 13-17
---
Make a Dog's Day - Andy A
Subaru is proud to establish the first-ever National Make A Dog's Day October 22nd. As part of Subaru Loves Pets month, we're inviting all dog lovers to do something extra special for their furry best friends. Plus, Subaru will be focusing our efforts on helping the hardest-to-adopt shelter Dogs –those with special needs-find homes. Get ready to fall in love withThe Underdogs. #MakeADogsDay Meet Gabi! Gabi has been at the Humane Society of NWGA (Northwest Georgia) for seven years. If you asked the volunteers to pick their favorite animal at the shelter, Gabi would win hands down. She does not do well with dogs or cats so must be the only animal in an adult only family. She loves people and will bond very quickly to you. Gabi would make someone a great companion. She is waiting patiently for her forever home. If you have room in your heart and your home for this sweet girl then please fill out an adoption application, highlight and right click this link: https://hsnwga.org/adoption/application-for-adoption/?fbclid=IwAR2Ie18p6U3ryKi-niIuIZFTd-waD98xrySl7IJmiRBXE239WP7dpODubiU #MakeADogsDay #SubaruLovesPets #TheUnderdogs
---
Subaru Helps Us Cool Off Hot Summer Days - Joel M
Many Meals-on-Wheels participants have difficulty leaving their homes. That can present challenges, especially when the temperatures top 90 degrees and a person doesn't have air conditioning in their home. Senior Services wants to help older adults beat the summer heat and we're doing that by delivering box fans to program participants in Forsyth County with the help of our Subaru Outback. Volunteers play a special role in the process, as well. Meals-on-Wheels volunteers serve as Senior Services' eyes and ears in the community. When they deliver meals and perform wellness checks, they are able to determine if a home is too hot. When they report dangerous situations, such as extreme heat, Senior Services is able to use the Subaru to take appropriate action."We're so grateful to Meals on Wheels America and Subaru of America for providing us with this vehicle. I think having the Subaru Outback has been a life saver for us and many of the people we serve," said Linda Kearsley, vice president of Nutrition Services at Senior Services. "It has given us an additional ability to serve Meals-on-Wheels participants who have special needs and circumstances. Delivering fans is a perfect example of this. In response to reports of heat, our couriers are able to use our Outback to deliver fans to people who desperately need them."
---
Flow Subaru provides warmth to cancer patients - Susan Y
The Leukemia & Lymphoma Society is extremely grateful to be a partner with Subaru in their Subaru Love Promise Campaign. For the third year in a row, Flow Subaru of Winston-Salem, NC, partnered with our local LLS chapter to deliver 80 blankets, customer care cards and craft kits to cancer patients at the Novant Health Derrick L. Davis Cancer Center. Upon arrival, I met with Richard Berryhill and his team at Flow Subaru along with the team at Novant Health, and then stepped outside in front of the Cancer Center where we all unloaded the Subaru and put the blankets, craft kits and care cards in the Cancer Center. Novant Health distributes their blankets and cards one at a time throughout the year and often, their chaplain gives these to patients and their families during some of their darkest times to give them a feeling of comfort and support from their local community. Meredith Smith and Sarah Crowell of Novant Health said that patients who have received blankets in the past continue bringing them year-after-year, it truly creates a sense of warmth and comfort. The team at Subaru have all had someone that they are close to who has been impacted by cancer and many of them treated at the Novant Health Derrick L. Davis Cancer Center. We were able to leave the thoughtfully written customer care cards filled out by the local customers of Flow Subaru with the staff of the hospital. There were cards from other cancer patients and survivors, local families sending well wishes and some from young children which will all certainly brighten the day of a patient or their family upon reading them. We were all grateful to be able to show our support to patients and their families who have been impacted by cancer and look forward to this continued partnership for years to come.
---
More than a Delivery Vehicle - Joel M
Senior Services' and each Meals-on-Wheels volunteer is committed to delivering a meal and a moment of connection to homebound older adults across Forsyth County. Our Subaru Outback - graciously donated to Senior Services by Subaru of America in partnership with Meals on Wheels America - is helping us do it! Most recently, as the hot weather drags on, Senior Services staffer, Dave can be found behind the wheel of the Outback with a car full of water. Dave travels along various Meals-on-Wheels routes, delivering bottles of water to volunteers to help them stay cool and hydrated as they complete their mission to bring a meal and a smile to thousands of Meals-on-Wheels recipients. "That car can hold a lot of water," says Dave, "and that's a good thing because it gets hot out there. The volunteers spend a lot of time outside and they seem to enjoy getting a little water break." The volunteers really appreciate Dave's effort and we appreciate our Subaru Outback for helping us meet the need!
---
The Impact of a Blanket In Time of Need - Susan Y
The partnership between Subaru and The Leukemia & Lymphoma Society has provided unforgettable experiences and connections to so many people who have been impacted by cancer. July 9th was no exception. When I first reached out to Linda Potts, Sales Manager of Flow Subaru Winston-Salem, I could tell in her voice that she had been a story to tell. We talked for a few minutes and then she shared with me that she lost her mother to blood cancer in 2011. Her mom had been treated at Novant Health Forsyth in the Derrick Davis Cancer Center and had received amazing care but unfortunately lost her battle. Until recently, when Linda had a friend who was also being treated at the Cancer Center, she had not been able to return to the hospital. When they chose Novant Health, she volunteered to do the deliveries because she wanted to give back not only to the hospital but also to others who are currently in their fight. When the team from Flow Subaru arrived, they were warmly greeted by Stacy Sawyers at Novant and an entire team of nurses, patient navigators and hospital volunteers eager to help unload the blankets, customer care cards, craft kits and tote bags. They had such a great response in the past and said their patients had already started asking if they would be getting more blankets from Subaru this year. We were even able to quickly share a blanket with a patient who was waiting to return home after her treatment. We went inside and took a few photos and then we started sharing stories. Linda explained to the Novant team that her mother had been treated with so much compassion during her time there and she wanted to do something to help show her appreciation. Stacy told us how they pass some of the blankets out in the summer but keep most of them for the winter months as patients really need them during the cold days and nights. Stacy also shared that their Chaplin keeps a small handful and as patients who most likely will succumb to their disease are spending that most crucial time with family and friends, she shares them as a prayer quilt to help ease their pain. I am grateful to be involved with the Subaru Loves To Care Campaign and know first-hand that we are truly providing warmth and comfort through difficult times.
---
Our Outback Continues to Have an Impact - Joel M
Pack the Outback Our Subaru Outback, donated to Senior Services by Subaru America last year, played a major role in Community Champions week. Right in the middle of the week, on what was supposed to be the first day of spring, we had yet another challenging weather day! Thankfully the snow is no match for our thousands of volunteers and the Subaru Outback, which has become an irreplaceable vehicle when conditions are less than favorable. Proclaiming the Importance of Meals-on-Wheels On Friday, the last day of Community Champions week at Senior Services, Mayor Allen Joines helped us "Pack the Outback" with all the canned and boxed goods that staff and volunteers collected throughout the week. These grocery items will go a long way to support the need in our Meals-on-Wheels program. During his visit, Mayor Joines also read his proclamation designating this month the "16th Annual March for Meals" in Winston-Salem. The month of March mobilizes hundreds of Meals on Wheels programs across the country to reach out to their communities and build the support that will enable them to serve America's seniors all year long. This special week within March for Meals has shown everyone, once again, the immeasurable power of many big-hearted people united under one mission.
---