The 2021 Subaru Love Promise Customer and Community Commitment Award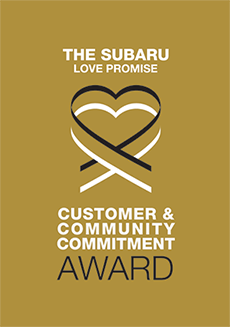 We've been nationally recognized for our dedication to our customers, our community, and the Subaru Love Promise.
We're honored to receive the 2021 Subaru Love Promise Customer and Community Commitment Award. This award nationally recognizes elite Subaru retailers who provide an exceptional customer experience at every interaction with Subaru. These retailers have also demonstrated an outstanding commitment to supporting passions and causes in their local communities in important areas such as the environment, community, health, education, and pets.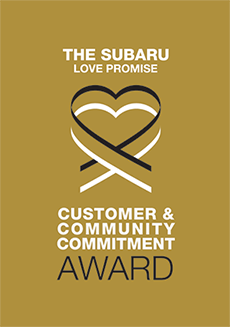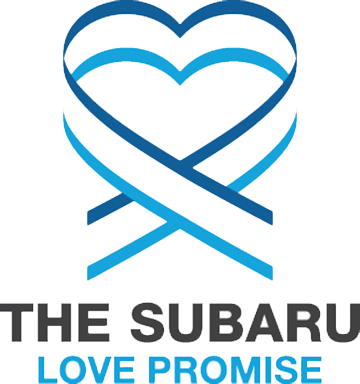 What is the Subaru Love Promise?
Subaru and our retailers believe in making the world a better place and the Subaru Love Promise is our vision of respecting all people. This is our commitment to show love and respect to our customers and to work to make a positive impact in the world.
How is Flow Subaru dedicated locally to the Love Promise?
Our Love Promise can be seen in various partnerships with local charities and non-profits. We're grateful for the opportunity, not only to be a part of our community, but to serve it as well. At Flow Subaru of Winston-Salem we take our partnership with our community very seriously, and we thank Subaru for sharing our same goals!
Humane Society of Davie County
Love Promise Stories from Flow Subaru
Subaru and Flow Subaru believe in making a positive impact on the communities in which we live and work. We uphold that belief through our Love Promise Community Commitment. Every month, we select inspiring stories from customers and partners from around our area who strive to support our collective commitment and feature them here
Share the Love-Humane Society of Davie County - Jennifer M
Twice a month the Humane Society of Davie County (HSDC) travels to Greensboro, NC and Waldorf, Maryland. The travel to Greensboro is 106 miles, round trip, and provides transportation for cats and dogs enrolled in our low cost spay/neuter clinic. HSDC provides transportation of kittens and puppies to a rescue partner in MD as our shelters are currently at maximum capacity. Our last transport included fifty carriers, carrying 95 cats/kittens and 8 puppies! WOW!! These animals come from our community and surrounding counties. The trip to MD is 260 miles one way, or 520 miles round trip. These trips total 1,252 miles every month and that does not include the miles we travel for our local errands. Needless to say, all this travel puts a lot of wear and tear on our transport van. In order to keep the van running in tip-top shape, we rely on donations for oil changes, tire maintenance, wind shield wipers, brakes, etc. HSDC also uses donations to purchase necessary vaccines and food for the animals going on transport. Thank you Flow Subaru Winston-Salem for keeping our drivers and pets safe out on the road!
---
Share the Love-Humane Society of Davie County - Jennifer M
During the month of October, Flow Subaru of Winston-Salem participated in the "Subaru Loves Pets" campaign. Through this campaign, the Humane Society of Davie County (HSDC) received a donation of $100 for every pet that was adopted. Additionally, Flow Subaru provided Bark Boxes that are given to our new dog owners, until our supply runs out. The Bark Box contains essential items for any new dog owner: a tote bag, a poop bag holder that contains poop bags with funny sayings on them, a travel water bowl, leash, doggie wet-wipes, and a chew toy. Michelle, who recently adopted her first puppy, Maggie, was excited by her surprise gift and couldn't wait to try out the new items. She said she would have never thought to get a travel bowl or wipes. HSDC is extremely grateful, and thankful, for our partnership with Flow Subaru of Winston-Salem and their dedication to improving the lives of the homeless and underserved pets of our community.
---
Share The Love-Humane Society of Davie County - Jennifer M
One of the mission goals of The Humane Society of Davie County (HSDC) is providing low-income pet owners with access to our food pantry. HSDC provides a pet food pantry twice a month to pet owners who are having a difficult time meeting the nutritional needs of their pet. The food pantry is advertised on our Facebook page to help spread awareness in our community. Janis, who runs this event and is pictured below with a recipient, said without the help of donations, it would be difficult to fulfill this mission. Hundreds of families with pets have benefitted from this program and tell us how grateful there for this assistance! Thank you, Flow Subaru of Winston-Salem, for providing assistance in meeting one of the goals of our mission, feeding the underserved!
---
Subaru Loves Pets-Humane Society of Davie County - Michelle G
Gracie's story is one of resilience and hope. In April 2021, Gracie was left behind when her parents moved to a new house, leaving her outside with no food or water. Concerned neighbors left food out for her as they noticed she appeared to be pregnant. Multiple attempts were made to catch Gracie, but she always eluded them. One day Gracie disappeared only to return a week later, not pregnant. An increased effort was made to catch Gracie and her kittens as the Humane Society of Davie County had been contacted and were willing to take her case. Gracie, and her kittens, were rescued, taken immediately to a vet and then to a caring foster home. There, she raised her three kittens and three other orphaned kittens that appeared to be the same age as her own. Just as Gracie was weaning her kittens and they were ready for adoption, five kittens were found next to a dumpster without a mom. These kittens were introduced to Gracie, she accepted them as her own and she nursed and cared for them until they were also adopted. Once Gracie's motherly duties were completed, she too was ready was for adoption. Finally, in October 2021, Gracie went home. She is now living in the lap of luxury with two other cats to keep her company. With the gracious donation from Flow Subaru Winston-Salem, the Humane Society will be able to continue to care for the homeless pets of Davie County. Our mission also includes the promoting of spay and neuter programs to prevent more stories like that of Gracie.
---
Visit From Our Pet Partners - Wendy W
Meet Eleyna, the only dog available for adoption through the Davie County, NC Humane Society, our local pet partner. Eleyna and her person stopped by today to say hi, visit for a while, and get treats. Eleyna has been in foster care for about a year now, and has had several meets and greets without finding a good fit for her. She has a lot of trauma from her former life, and because of that, her well-behaved self needs to be an only dog 🐶 She loves going on walks, being outside, riding in the car and getting puppichinos 💙. Eleyna has a meet and greet tomorrow with a prospective family 🤞🏻 .Everyone who adopts from Davie Humane will get a new dog parent starter kit from our Winston Salem, NC store while supplies last.
---
Barktoberfest - mandy h
Max (a boxer/pit mix) was found wandering as a stray eating whatever he could find out of garbage cans. He had an ear so infected it had an open wound and he was bleeding. Luckily a kind Samaritan contacted HSDC to see if there was any room on a late Saturday afternoon when no one else was open. We couldn't say no. This baby had no other options. He was adopted this month by a wonderful young woman who lives in Raleigh. She's very active and takes Max now to the park often and he is spoiled rotten with lots of snuggles. She also arranges frequent play dates for him because he's so social with other pups. 2) Brownie (a rottie/shepherd mix) was surrendered by a family that decided they didn't want the responsibility of having an 8 month old puppy any longer. "She's sweet but she's a lot of work so we are planning to take her to the pound." Yes most living things are work. However, she has since been adopted by a family that welcomed the responsibility (and the rewards) of pet ownership. They met Brownie at an adoption event and were completely smitten. The parents weren't convinced that they should have two dogs though (since they had already put down a deposit on another rottweiler puppy through a breeder). However, the children in the family put together a PowerPoint presentation to convince the parents that they could adopt and care for both responsibly. Brownie, now Millie will be spending lots of time at Lake Norman on the family boat, going for hikes, and hanging out with her new responsible human siblings. 3) Autumn (pit mix) was surrendered to a high kill shelter in the area. She had very evident marks on her face to indicate that she was a bait dog. Despite how her previous "humans" treated her, she was the sweetest and gentlest girl ever. And she still liked other dogs. Autumn was adopted to a loving military family that was excited to show her what life was like in a loving home. Autumn has had to learn from them how to actually walk on a leash and that she could sleep in a human bed too. Autumn has relished being spoiled rotten in her new loving home. 4) Honey (Siamese) and Sweetie Pie (all white) kittens were part of a litter that were dumped in an open carrier on the side of a busy highway. Luckily they were too young and little to crawl out of their open carrier (their mama stayed too -- thank goodness). Covered in fleas crawling all over their bodies, the Humane Society of Davie County immediately brought them in and searched for an experienced foster to care for them because the mama kitties milk supply was low. Mama was able to still nurse her kittens, but some of them (like Honey and Sweetie Pie) needed to receive supplemental feeding from a bottle. Now these babies are almost 12 weeks old and have been adopted together by a loving new family. They are spoiled rotten with every kind of toy, scratching post, and bed they could ever want. And they get to be together too! 5) Merlin and Merrigold came to the rescue from separate places. Merlin (black and white kitty) showed up at a family's home and literally stared in their window for days (rain or shine) hoping to be let in. They fed him outside, hoping that each day his owner would be found, although in pretty rough shape not too optimistic. Finally, they reached out to the Humane Society of Davie County seeing if there was anything they could do to prevent this kitten from becoming food to the coyotes since they lived on lots of land. Merlin was able to come into a loving foster home. He got healthy too (he had an upper respiratory infection and fleas...lots of fleas). This same foster had decided to say yes to another kitten that was found abandoned. Originally this orange kitten (named Merrigold) the family who found/rescued her thought she could just live in their barn but Merrigold had other plans. She meowed and meowed wanting to be let in. The family contacted HSDC to see if they could help locate a foster. When Merrigold went to a foster, she became friends with Merlin (it was not love at first sight though...they realized they had a lot in common - they both knew that they wanted to be safely inside with loving families and succumbed to being best of friends). Merrigold had a hernia (a quite large one) that will be fixed when she is spayed on October 26th. Now these two unlikely foster siblings will now be forever siblings. They were adopted by a family who came to pick out just one of the kittens, but ultimately decided they could not be separated. They too have lots of cat trees, tunnels, toys, scratching pads, and kids to love and play with them and 3 boy human siblings to call their own. I'll tell ya this was a bit wonderful to write and remind of all the good that comes out of rescue even though you know you can't save them all. Thank you, Ruben for playing such a critical piece in this puzzle. We appreciate the generosity you have shown our organization and the animals that have come through our doors! Much Gratitude, Mandy
---
Roc Solid - kelly k
Flow Motors and several Subaru employees teamed up with Roc Solid Foundation to build hope for local children fighting cancer. Flow Subaru, our corporate management team and several of our sister stores came together to build a playset for a local family who is fighting pediatric cancer. We met at the family's home and within a few hours had a wonderful playset complete with a rock climbing wall, swing, slide and fort built with the help of Roc Solid Foundation who organized the entire event. The young man and his family were so excited and appreciative. It was a wonderful morning well spent giving back to our community.
---
Subaru Spirit of Caring! - Joel M
Each year Senior Services helps to make holidays brighter for the older adults in their programs through their Remember in December campaign. The campaign is a community-wide item drive to collect comfort, care, and household helps for seniors who need it. Our Subaru Outback has been indispensable in this process - helping to deliver big red boxes to various drop-points in the community, bringing donated items back to our office, and helping us cart collected items to seniors we serve. It is great to be a part of such a wonderful community that never fails to remember older adults not only during the holidays, but throughout the entire year. Subaru exemplifies this caring spirt and we're thankful to them for all they've done to help us serve older adults.
---
Flow Thank you to front line Health care workers - Kelly M
A special thank you to our Health care providers During our Covid-19 . We are giving a Free oil and filter change to show our support from April 13-17
---
Make a Dog's Day - Andy A
Subaru is proud to establish the first-ever National Make A Dog's Day October 22nd. As part of Subaru Loves Pets month, we're inviting all dog lovers to do something extra special for their furry best friends. Plus, Subaru will be focusing our efforts on helping the hardest-to-adopt shelter Dogs –those with special needs-find homes. Get ready to fall in love withThe Underdogs. #MakeADogsDay Meet Gabi! Gabi has been at the Humane Society of NWGA (Northwest Georgia) for seven years. If you asked the volunteers to pick their favorite animal at the shelter, Gabi would win hands down. She does not do well with dogs or cats so must be the only animal in an adult only family. She loves people and will bond very quickly to you. Gabi would make someone a great companion. She is waiting patiently for her forever home. If you have room in your heart and your home for this sweet girl then please fill out an adoption application, highlight and right click this link: https://hsnwga.org/adoption/application-for-adoption/?fbclid=IwAR2Ie18p6U3ryKi-niIuIZFTd-waD98xrySl7IJmiRBXE239WP7dpODubiU #MakeADogsDay #SubaruLovesPets #TheUnderdogs
---